Prenatal Testing and Prevention of Alloimmunization in Mothers of Saskatchewan (PRAMS) Program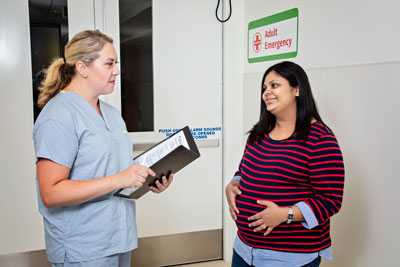 In expectant mothers, it is standard of care for maternal blood group with Rh determination and antibody screen testing (ABO/Rh type and Ab Screen) to be performed to evaluate for fetal risk of hemolytic disease of the fetus and newborn (HDFN). Current clinical practice guidelines recommend that all expectant patients be typed and undergo a screen for alloantibodies at their first prenatal visit, with results of initial testing guiding the need for further investigations.
Prenatal transfusion medicine testing (ABO/Rh Type and Ab Screen) is currently provided to residents of Saskatchewan through Canadian Blood Services (CBS) in Vancouver.  This testing will transition to the Laboratories of the Saskatchewan Health Authority on February 3, 2020.  This allows us to provide care closer to home for our patients, improving the turn-around time and the information flow of test results electronically. These changes will impact your practice and improve the delivery of care for your patients.
Transmissible disease ordering and testing processes will remain unchanged.
Prenatal Transfusion Medicine Testing changes effective February 3, 2020
Facts you need to know:
Test results will be available in e-Health and EMRs, as opposed to the current experience of receiving paper faxes from CBS.
A new requisition will be in use effective February 3, 2020 titled Saskatchewan Health Authority, Prenatal Request for Testing. The new requisition will be pushed out to Accuro users and will be available for download from MedAccess in late January. Paper-based offices may access the new requisition under the FORMS section below.
Antibody titer reporting will change. SHA laboratories use automated testing for antibody titers, which is considerably more sensitive than manual testing methods used by CBS. This will impact titer interpretation and the identification of critical thresholds for patients. The new critical threshold for referral to specialist care will be 64, rather than 16.
Test Centers
Routine Testing
Serving the former Cypress, Five Hills, Regina Qu'Appelle, Sun Country and Sunrise Health Regions:
Transfusion Medicine Laboratory
Regina General Hospital
1440 – 14th Ave.
Regina, SK S4P 0W5
Phone: 306-766-4474
Fax: 306-766-4004
Serving the former Athabasca, Kelsey Trail, Mamawetan Churchill River and Prince Albert Parkland Health Regions:
Transfusion Medicine Laboratory
Victoria Hospital
1200 24th St. West
Prince Albert, SK S6V 4B2
Phone: 306-765-6146
Fax: 306-765-6163
Serving the former Heartland, Keewatin, Prairie North and Saskatoon Health Regions
Transfusion Medicine Laboratory:
St. Paul's Hospital
1702 20th St. West
Saskatoon, SK S7M 0Z9
Phone: 306-655-5168
Fax: 306-655-5101
Provincial Reference Testing
Transfusion Medicine Laboratory
Royal University Hospital
Room G502, 103 Hospital Dr.
Saskatoon, SK S7N 0W8
Phone: 306-655-2179
Fax: 306-655-2222
Forms
*** For the Accuro template, please access the Accuro Forms Editor and search for "SHA Request for Prenatal Testing (SK)"
| Document Name | Date of Original Publication | Date Revised | |
| --- | --- | --- | --- |
Correspondence
| Document Name | Date of Original Publication | Date Revised | |
| --- | --- | --- | --- |
Patient Teaching Information
| Document Name | Date of Original Publication | Date Revised | |
| --- | --- | --- | --- |
Algorithms
| Document Name | Date of Original Publication | Date Revised | |
| --- | --- | --- | --- |
Posters
| Document Name | Date of Original Publication | Date Revised | |
| --- | --- | --- | --- |
| | | | |
| --- | --- | --- | --- |
| Cord Blood Specimen Labelling and Testing Process Flow for Saskatchewan | January 31, 2023 | January 31, 2023 | Download |
Presentations
| Document Name | Date of Original Publication | Date Revised | |
| --- | --- | --- | --- |
| | | | |
| --- | --- | --- | --- |
| Prevention and Management of Alloimmunization in Pregnancy | November 10, 2022 | November 10, 2022 | Download |