Bloody Easy 4: Blood Transfusions, Blood Alternatives and Transfusion Reactions - A Guide to Transfusion Medicine Fourth Edition
This educational tool provides practical information on Transfusion Medicine in a concise booklet format. It is designed to enhance knowledge of physicians, nurses, and technologists on the clinical use of blood transfusions and blood alternatives.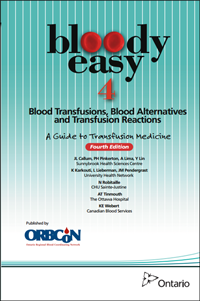 Bloody Easy Blood Administration Version 2
This booklet is ideal for nurses or health care professionals administering blood. It provides an overview of blood and blood products, the risks associated with them, and how they should be administered. In addition, it describes the types of transfusion reactions that may occur. This booklet is available in both English and French and is the companion to the online course "Bloody Easy for Nurses".